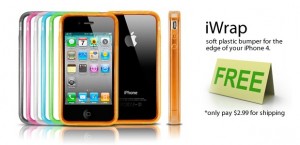 For a Fun Friday post we thought we'd make sure you'd heard about…
Pexagon's "i Love Apple" Campaign …
WE LOVE APPLE and so do they, SO YOU GET A $20 CASE FOR FREE!
With the Apple iPhone 4 antenna problems forming a growing wave of
concern – Pexagon Technology is offering a free solution to consumers. Through their "i Love Apple" campaign, they are offering a free iWrap (their version of the iPhone 4 soft plastic bumper) to iPhone 4 owners. Consumer Reports states that this soft plastic case has been proven to resolve the perceived loss of signal issue on the iPhone 4.
Apple has been, and continues to be admired by Pexagon Technology President Brian Campbell who stated, "If indeed there is a potential issue with Apple iPhone 4, we are proactively doing what we can to help – offering each iPhone 4 owner a free iWrap bumper, suggested by Consumer Reports as a remedy to any possible connectivity difficulties."
Again, the iWrap bumper, normally $19.99, is free for a limited time. Due to a very high expected demand, please allow us 7-10 business days for order processing.
USE COUPON CODE: CSWRAP7G inside the shopping cart.
LIMITED TIME OFFER & LIMITED QUANTITY. ONLY 1 PER CUSTOMER. MAY NOT BE VALID WITH SOME OTHER OFFERS. OFFER SUBJECT TO CHANGE. 7-10 BUSINESS DAY ORDER PROCESSING TIME.
http://www.pexagontech.com/deals/email/iwrap-i-love-apple-launch.php